Bendable Neon Strip Light Flexible DIY Led Neon Rope Lights for Kids

OVERVIEW:
DIY Neon Light are perfect gifts for holiday, Christmas, parties, kids as wall decor. It can create DIY vibe, a great decoration for teen boy and girl. When the personalized neon signs light up, they can capture your heart.

The flexible rope light could be bent to any shapes as drawing.
YOU CAN BEND THE NEON LED STRIP LIGHT INTO YOUR DESIRED SHAPES WITH YOUR ENDLESS IMAGINATION, NOT LIMITED TO THE IMAGES SHOWN ON THE PICS !



Feature:
1.
Cute DIY Design -- The DIY neon light strips built in memory iron wire, creating your favorite shape in 5 SECONDS. A simple line pattern in drawing is included for reference. With this shapeable LED Neon light, your options are limitless. You can draw you own lines and along the lines with the LED strip. Let's start your endless imagination!
2.
Easy to Use -- DIY LED Neon Signs come with AA battery(NOT included) box and USB cord. With double-sided tape, mounting-clips & screw(5 each), easy to fix the LED neon sign to the wall. You can either use the battery pack or plug it to USB port,PC,power bank etc.
3.
Eco-Friendly -- LED neon rope light come with soft and bendable silicone waterproof case, Hazard-free, No risk of glass breakage or leakage of hazardous materials. 5V/1A power safe and efficient design, low energy consumption, long lifespan.
4.
Perfect Decor Gift For Kids  and it is also widely used in wedding, bachelorette party, bridal banquet, birthday party and other celebration occasions. Unlimited shapes.Let's make the most of your imagination. 
5. Improve child hands-on ability--Can be bent into some shape such as dolphin、cat、butterfly、bird、lip、cloud、tree、heart and any letter. Improve children's imagination and practical ability.
What you get:
1x 3.28ft LED neon lights,1x battery box,1x USB power plug, 5x clips&screw.

HOW MANY SHAPES ARE THERE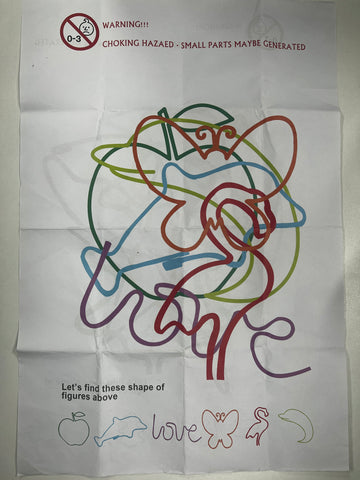 PICTURE EFFECT EXAMPLES