Hand Blown Glass Creative Crystal Golden And Pearl White Wall Plate Wall Art Wall Flower Wall Mounted Sconces Home Decor Custom made Set LRP005
The combination of amber golden color around the edge and pearl white sitting the major central part creates a marvelous layered presentation in this glass wall plate.A beautiful way to bring contrast, the glass wall plate combines warm color with a cool, smooth texture to create a visually compelling piece in a dining area or living room.
The extraordinary quality and elegant design of this hand-blown plate add style and a sense of luxury to your home. This exquisite centerpiece plate is not only for the wall, but also the perfect gift for your family, friends, and clients for all occasions including birthdays, weddings, anniversaries, and corporate gifts.
The size of blown glass wall plates we manufactured is normally from
D10inch/25cm to D20inch/50cm.

But we could create hand blown glass wall plates and wall flowers, which designed custom for you and your space based on your style, color, size and design specifications such as folded edge.  
Note: The glass plate doesn't go with lights as the light comes from ceiling light. You can install some spot ceiling light.
To learn more about this product and have your handcraft glass plates customised, PLEASE CONTACT US AT

info@chihulychandelier.com

TO TELL US YOUR THOUGHTS AND WE CAN FIGURE IT OUT !
Hand Blown Glass Creative Crystal Golden And Pearl White Wall Plate Wall Art Wall Flower Wall Mounted Sconces Home Decor Custom made Set LRP005
Manufacture and Installment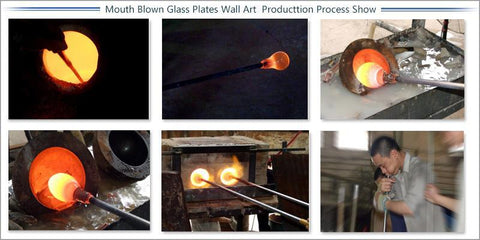 Example choice of glass plates
Package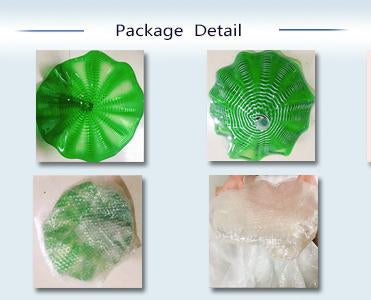 Demon