Hand Blown Glass Wall Plates Set For Home Decor LRP006
OVERVIEW:
This blown glass wall plates set arrangement will look stunning in all environments with water wave texture of each piece. A pure white color center is contrasted to its edge, which is a ring of light blue colored glass, which looks like lotus blossom.
Flowers hang individually and can be arranged however you wish to bring your joy beautiful garden indoor.
Note: The glass plate doesn't go with lights as the light comes from ceiling light. You can install some spot ceiling light.
SPECIFICATIONS:
Products Name: 

 

Murano Glass Wall Plates For Wall Decor LRP006

Category:

Glass Wall Plates, Glass Wall Flowers, Glass Wall Bowls, Glass Wall Decor

Size:

   

D25cm/10Inch

Color:

Blue


Material:

   

Murano Glass

Usage: 

 

Wall Decoration

Model Number:

   

LRP006

Customizable:

Yes

Shipping:

  

Shipping Free, Usually 3-10 days, bespoke items are around 15 days
CONTACT US:
More information about glass wall plates please contact us: 


Email:

    info@chihulychandelier.com; 


WhatsApp:

    +86 15359255581

Hand Blown Glass Wall Plates Custom Made Set - Longree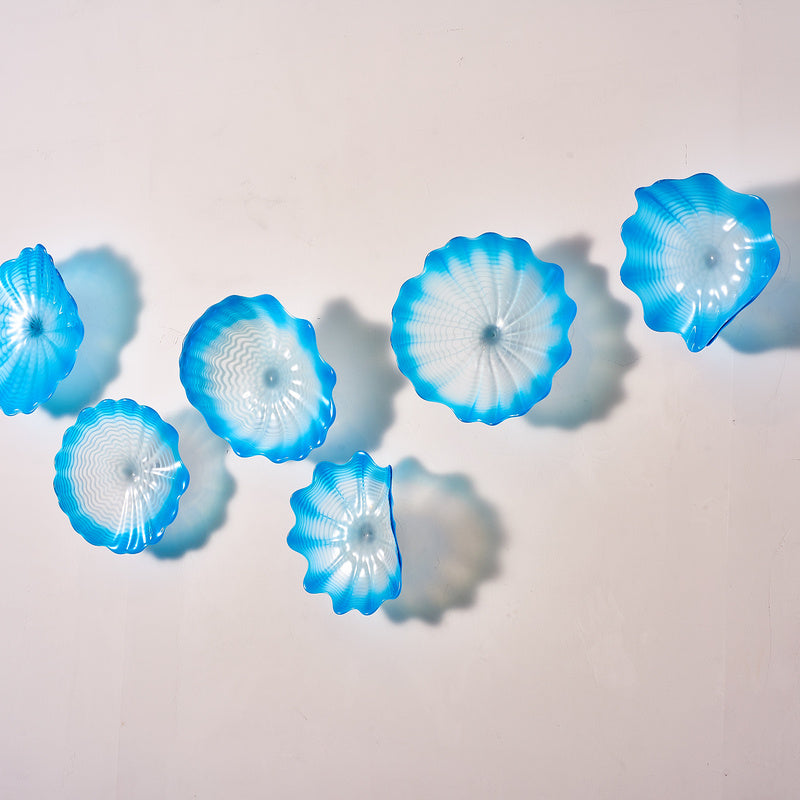 Manufacture and Installment



Example choice of glass plates

Package