Hand Blown Glass Wall Plate Wall Art Wall Flower Home Decor Custom made Set LRP006
This blown glass wall plates set arrangement will look stunning in all environments with water wave texture of each piece. A pure white color center is contrasted to its edge, which is a ring of light blue colored glass, which looks like lotus blossom.
Flowers hang individually and can be arranged however you wish to bring your joy beautiful garden indoor.
The size of blown glass wall plates we manufactured is normally from
D10inch/25cm to D20inch/50cm.

But we could create hand blown glass wall plates and wall flowers, which designed custom for you and your space based on your style, color, size and design specifications such as folded edge.  
Note: The glass plate doesn't go with lights as the light comes from ceiling light. You can install some spot ceiling light.
To learn more about this product and have your handcraft glass plates customised, PLEASE CONTACT US AT

info@chihulychandelier.com

TO TELL US YOUR THOUGHTS AND WE CAN FIGURE IT OUT !
Hand Blown Glass Wall Plate Wall Art Wall Flower Home Decor Custom made Set LRP006
Manufacture and Installment



Example choice of glass plates

Package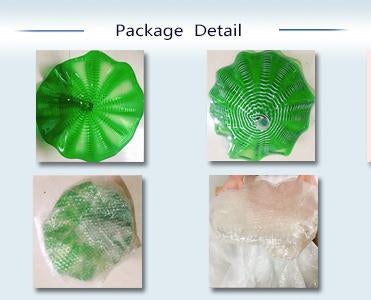 Demon