Hand Blown Glass Wall Plates Wall Mounted Floral Sconces Art Decor Luxury Wall Hanging Plates Set LRP011

This set blown glass plates with united color create a stunning wall feature with. Each plate features a wave swirl of brown chocolate color that begins at the center and swirls outward to the plate's rim with crystal blue mosaic sphere respectively laying on the central. Artisans use traditional glass blowing techniques to create each one-of-a-kind art piece with delightfully scalloped edges. The circular shapes' are perfect for creating artful groupings that can add a quick abstract art-installation vibe.
The size of blown glass wall plates we manufactured is normally from

D10inch/25cm to D20inch/50cm.

But we could creates hand blown glass wall plates and wall flowers, designed custom for you and your space based on your style, color, size and design specifications such as folded edge.  
Note: The glass plate doesn't go with lights as the light comes from ceiling light. You can install some spot ceiling light.
To learn more about this product and have your handcraft glass plates customised, PLEASE CONTACT US AT

info@chihulychandelier.com

TO TELL US YOUR THOUGHTS AND WE CAN FIGURE IT OUT !
Hand Blown Glass Wall Plates Wall Mounted Floral Sconces Art Decor Luxury Wall Hanging Plates Set
Manufacture and Installment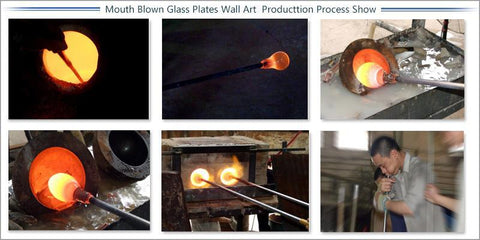 Example choice of glass plates
Package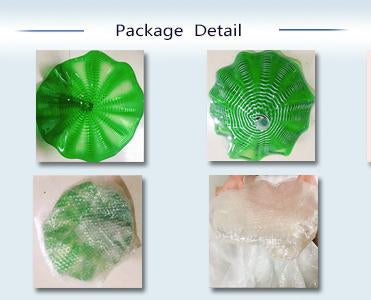 Demon