Colorful Hand Blown Glass Wall Plates Wall Mounted Floral Sconces Wall Flowers Art Decor Luxury Wall Hanging Plates Set LRP012
On the hunt for the unique, impressive, and beautiful artwork to decorate your wall and fits in your tastes just in right? This strikingly beautiful shapes, colors, and patterns of blown glass plates set may be the answer for every decorator and homeowner. This glass wall plates set includes 6 plates. Each of the glass plates comes in different colors, textures and shapes. The red, blue and green one are in marble texture, while the pink, aqua and blue one are in swirl wave texture.  There are red, golden, yellow and blue balls for you to match the glass plates at your arrangement. These combinations mounted on the wall under your array, span and position to form different image. You will find your  wall filled with vivid flowers and your home full of vigor with finished work.
The size of blown glass wall plates we manufactured is normally from
D10inch/25cm to D20inch/50cm.

But we could create hand blown glass wall plates and wall flowers, which designed custom for you and your space based on your style, color, size and design specifications such as folded edge.  
Note: The glass plate doesn't go with lights as the light comes from ceiling light. You can install some spot ceiling light.
To learn more about this product and have your handcraft glass plates customised, PLEASE CONTACT US AT

info@chihulychandelier.com

TO TELL US YOUR THOUGHTS AND WE CAN FIGURE IT OUT !
Colorful Hand Blown Glass Wall Plates Wall Mounted Floral Sconces Wall Flowers Art Decor Luxury Wall Hanging Plates Set
Manufacture and Installment



Example choice of glass plates

Package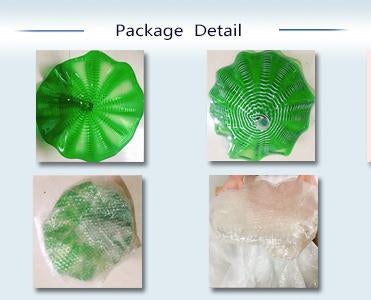 Demon